WARNING: I'M NOT OBSESSED WITH MR. YU OR WHAT. IT'S JUST FOR MEMORIES/KENANGAN.

Today I bring you guys a video, an audio, and a picture of Mr. Yu.

credits:
Thanks to Sarah for the video, me for the audio and Junee for the picture.

The links will expire in 7 days. If the links expired, tell me and I'll send to you via MSN (which will be taking a loooong time or I send to you e-mail. gmail is preferable.)

Mr. Yu in action (video : 82.4 MB // .MPG)
Download

Mr. Yu teaching (audio : 6.37 MB // .WAV)
Download
(The laughing part at the end, it's when he posing for photos and we all like LOAO)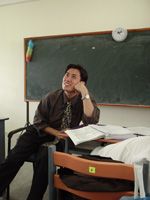 Next time, I'll bring you Ms. Fida, our beloved class teacher, and plus, other teachers too.